The Best Outdoor Living Products Powered by Propane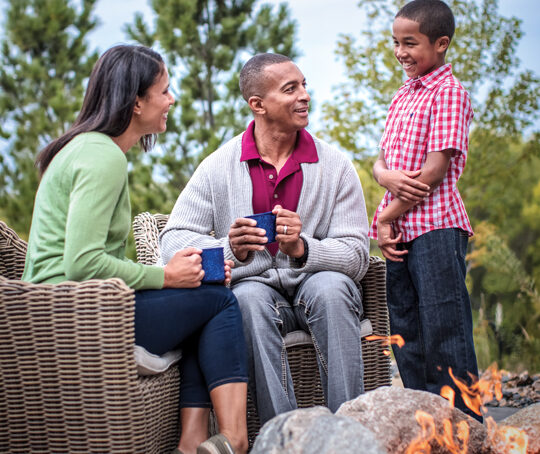 How can you add value and ambiance to your home without a major renovation?  By installing propane powered outdoor living products! Most people don't realize just how many things propane can fuel outside your home beyond grills.  But today, manufacturers offer a variety of products to create the outdoor living space of your dreams.
Beyond Propane Grills
So just what types of propane powered outdoor living products are available today? Everything from patio heaters to flame lighting, fireplaces, firepits and more. Clean burning propane can power an outdoor kitchen, keep you cozy and warm around a fire, and light your outdoor space with real flames.
Propane Powered Outdoor Kitchens
Extend your living space and add value to your home by creating an outdoor kitchen.  Today's outdoor kitchens come in all shapes and sizes with various features like built-in propane grills and pizza ovens.  Limited only by the amount of outdoor space you have, outdoor kitchen designs can be configured nearly any way you want with the materials that best match your home.  Of course, the grill is the centerpiece of every outdoor kitchen.  With modern built-in propane grills available in a variety of sizes, styles and colors, you can decide which one perfectly fits your space.
Propane Powered Outdoor Living Areas
Do you want to add warmth and atmosphere to your outdoor living area? Then propane powered products like fireplaces, and firepits, patio heaters and lighting are just what you need.
Propane Fireplaces and Firepits
Fireplaces and firepits provide a relaxing, warm gathering spot for friends and family on cooler evenings.  But, hauling heavy loads of firewood and waving away smoke are hassles no one wants to deal with while trying to relax or entertain.  Propane powered fireplaces and firepits are the ideal solutions! Propane burns cleanly, and with just the press of a button, you can bring your fire to life!
Propane Patio Heaters
Perhaps you have a large outdoor living space, and a fireplace or firepit isn't enough to heat the whole area.  Then you need propane powered outdoor heaters! These patio heaters can raise the air temperature 25 degrees while radiating heat in a circle up to 25 feet in diameter. They come in a variety of options to suit your specific needs, as well.  Propane powered patio heaters can be permanent or portable.  Permanent patio heaters are mounted to the ceiling and are controlled by a remote.  Portable patio heaters can be moved around the outdoor space and come in a variety of styles, including pyramid and cylinder shapes.
Propane Outdoor Lighting
Ambiance is an important feature of any home space, and outdoor living areas are no exception.  A lovely way to add ambiance to your outdoor living area is by installing propane lighting.  Propane lighting emits a real flame and warm glow.  It comes in a variety of styles and metallic finishes to fit your space.  From chandeliers and pendant lights to table top lamps, you can create soft lighting around your outdoor space.
For more information on propane-powered outdoor living products, visit www.superiorpluspropane.com or the Propane Education and Research Council at www.propane.com.
"*" indicates required fields