When It Comes to Billing & Payments, It's Nice to Have Options
Everybody's different. Some prefer the security of an automatic propane delivery service, while others like shopping for every fill. Some like paying online, while others are more comfortable paying in cash. We believe there's no right or wrong way to do things—and that you should have options you're comfortable with.

How Do You Like to Receive Your Bill?
At Superior Plus Propane, we let YOU choose.
You can receive your bill however you like, whether that's paper via U.S. mail or paperless via email.
Paperless
If you want us to email your bill, simply sign up for "Paperless Statements" in the mySuperior portal.
Paper
If you want a paper bill, no need to do anything! We'll send you your bill in the mail by default.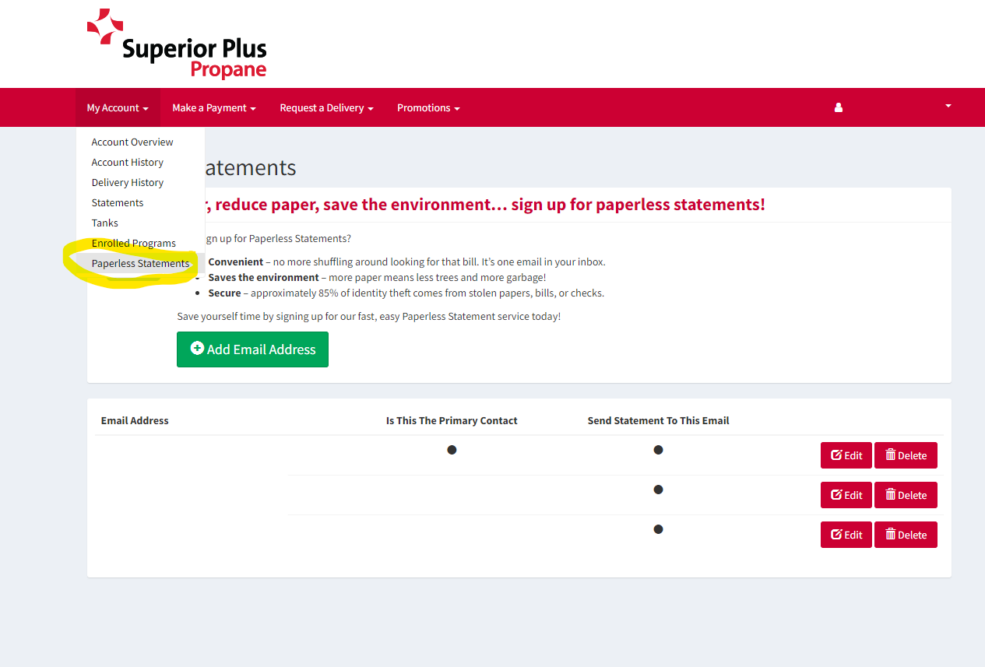 Automatic Payment
Never worry about missing a payment. Set up pre-authorized, recurring monthly payments on a credit card or directly from your bank account.
Budget Payment Plan
Take the guesswork out of your finances by evenly spreading your payments throughout the year. You make 11 equal monthly payments, and the 12th payment is used for settling the remainder of your account. We estimate your usage as accurately as possible, so you have a zero balance on your account at the end of the heating season.
Propane Pricing Plans
Fluctuating prices are a reality of the energy industry, and the cost of propane is no different. Some people like to lock their price in early, while others prefer to ride the market. We offer multiple plans, so you can choose the option that makes sense for you.
Market Price
This price fluctuates up and down daily with the changes in the propane market. As market prices rise and fall, so do yours. There are no up-front costs or fees associated with this program.
Fixed Price Protection Plan
Pay an agreed-upon price for an unlimited amount of propane for an entire heating season with our Fixed Price Protection Plan. As prices rise, your payment does not, guaranteeing a fixed cost.
Pre-Buy Protection Plan
Prefer to pay for all your fuel in advance? With our pre-buy option, you purchase your annual gallons upfront at a fixed price.