Quarles Brand of Superior Plus Propane Participates in Apple Blossom Festival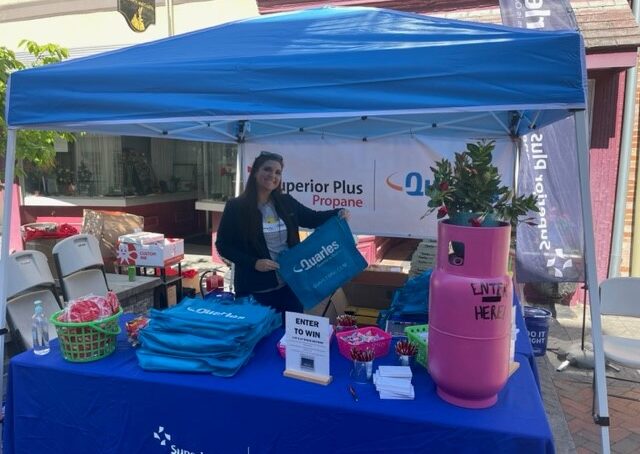 The Superior Plus Propane family consists of many brands located throughout the United States.  One member of our family, Quarles Delivered Fuels, operates primarily in Virginia.  This year, for the first time in several years, the team at Quarles chose to participate in a longstanding local event called the Shenandoah Apple Blossom Festival.
What is the Shenandoah Apple Blossom Festival?
The Shenandoah Apple Blossom Festival occurs annually in Winchester, VA to celebrate the arrival of Spring and the apple blossoms blooming in the orchards surrounding the city.  Winchester is located in the Shenandoah Valley, which has one of the highest concentrations of apple orchards in the state.
Each year, the festival draws more than 250,000 people over a ten-day period.  The festival encompasses activities that anyone can enjoy, like carnivals, dances, 10K runs, lunches, a country music party, a wine festival, a golf tournament, parades and much more.  The Shenandoah Apple Blossom Festival has been held for nearly 100 years, since 1924.  It has had celebrity Grand Marshalls of the parades, as well as celebrity special guests, including Bob Hope, Ed Sullivan, Terry Bradshaw and Katie Couric, to name just a few.  In past years, the daughters of two Presidents were named Queen of the festival–President Johnson's daughter, Luci, 1964 and President Ford's daughter, Susan 1975.
While the festival offers fun activities people of all ages can enjoy, it also promotes literacy and art education for local schools, donates supplies to the local schools and supports other local charities.
Participation by Quarles Delivered Fuels
Quarles has participated in the festival many times.  This year the participating team at Quarles, led by Wayne Dyer and Carly Earhart, set up a booth at the festival which handed out company promotional items like reusable tote bags, fidget toys and candy, as well as literature to promote propane, and the Superior Plus family of brands.
Throughout the ten days of the Apple Blossom Festival, the Quarles team connected with the local community, and engaged with current and potential customers.  Their booth was well attended and provided the Quarles team with a fun way to support and engage with their local community.
To learn more about Quarles, please visit https://www.superiorpluspropane.com/quarles/.  If you would like more information on the Shenandoah Apple Blossom Festival, please check out Shenandoah Apple Blossom Festival – Home (thebloom.com).
"*" indicates required fields