Heat Your Home. Preserve Our Parks.
Save now on propane service, and help support our
national parks. You'll receive a $250 account credit,
and we'll be donating $250,000 to the National Park Foundation and their mission to protect wildlife and
park lands, preserve history and culture, and
connect people to the wonder of the parks.

Discounted Rates for Military, First Responders, & Senior Citizens
Superior Plus Propane offers year-round, discounted rates for those who are serving or have served in all branches of the military, as well as first responders, and senior citizens over age 60.
How Do You Use Propane?
Enter our National Propane Day Contest by October 7!
Upload a digital picture of yourself showing how you use propane for a chance to win a Propane appliance.
(*Terms and conditions must be accepted for valid entry. Prizes include a propane grill, patio heater or fire pit.)
Become a Customer
There are many reasons why signing up with Superior Plus Propane makes sense.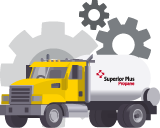 Reliability
Our regional propane supplier network and our strong, local presence provide a reliable fuel supply.

Safety
Our extensive safety programs and training keep our drivers, technicians, and customers safe.

Peace of Mind
We take the hassle out of handling your fuel needs.
Promotion Details
Offer expires February 28, 2023. Offer available exclusively to new customers who purchase a minimum of 300 gallons of propane, enter into a tank rental agreement, and sign up for automatic delivery. Subject to credit approval. Offer subject to change without notice and cannot be combined with any other offer, promotion or discount. Other conditions apply.
CALL 1-855-895-8025 NOW